Langoustine tartare with trout roe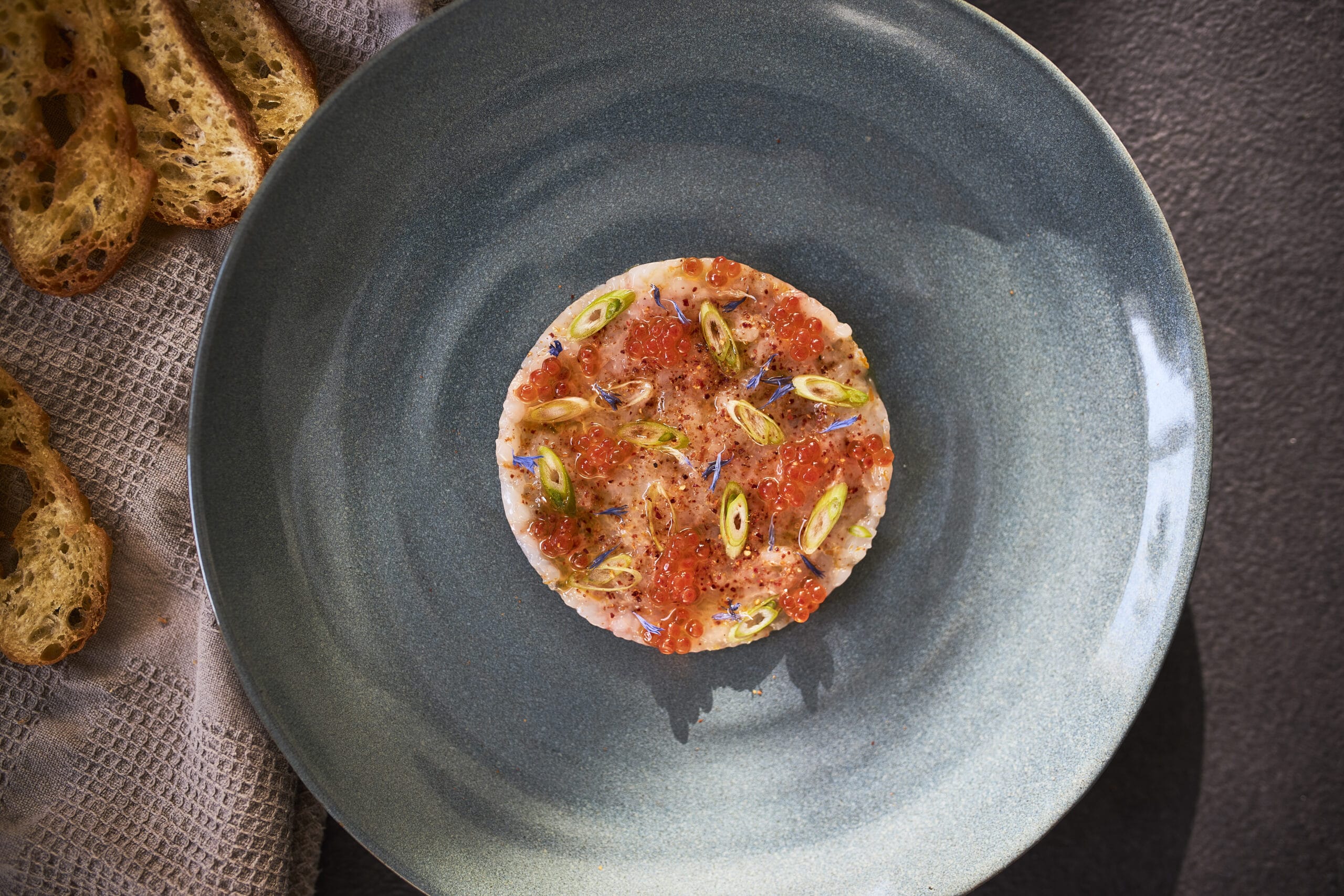 Ingredients:
3 l\whole langoustine
1 tbsp. good olive oil
0.5 tsp. piment de espelette (spice from the Basque country, similar to hot paprika)
½ thinly sliced spring onion
Zest from ½ an organic lemon
Zest from ¼ an organic orange
Trout roe
Freshly ground salt and pepper
Flake salt
Dried cornflower (can be omitted)
Method
1. Peel the langoustine and remove the intestines.
2. Cut the meat into small pieces.
3. Place the meat in a bowl and toss with finely grated lemon and orange zest. Add salt, pepper and olive oil.
4. Leave to infuse for 15 minutes.
5. Now arrange the mixture on a plate. U can use a form if you have it.
6. Season with piment d'espelette, trout roe, a little olive oil, thinly sliced spring onions, a little flake salt and a little extra lemon zest. If you have dried cornflower, you can also add this to top it off.
Serve with thinly sliced bread, coated in olive oil and baked in the oven at 200 degrees until golden.
Tip
When peeling your langoustine, save the heads and claws and use them to make a delicious langoustine bisque . You can put them in the freezer and save them until you have time.
Time: 1 hour
Quantity: Serves 1 person

Ingredients:
3 whole langoustine
1 tbsp. good olive oil
0.5 tsp. piment de espelette (spice from the Basque country, similar to hot paprika)
½ thinly sliced spring onion
Zest from ½ an organic lemon
Zest from ¼ an organic orange
Trout roe
Freshly ground salt and pepper
Flake salt
Dried cornflower (can be omitted)