Creamy lemon pasta with langoustine tails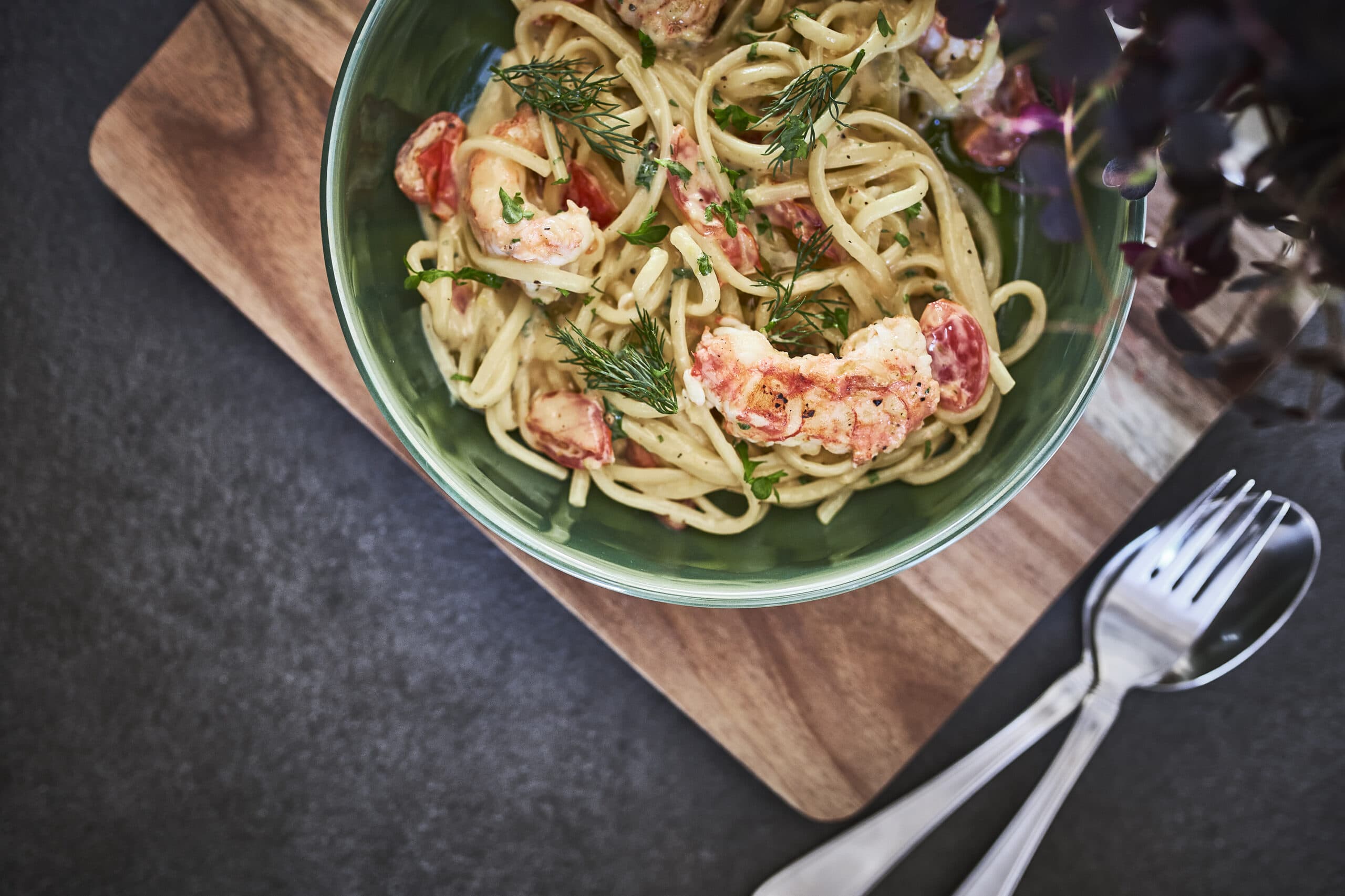 Ingredients:
30 langoustine tails
400 g fresh linguine (or spaghetti)
400 g cherry tomatoes
2 cloves of garlic
2 tbsp. oil
25 g butter
2 organic lemons (juice and zest)
4 egg yolks
2 whole eggs
A handful of chopped parsley
Perhaps with Wood sorrel as garnish
Method
1. Peel the langoustine tails, remove the intestines and season with salt and pepper.
2. Add water to the pasta (remember salt!).
3. Finely chop the garlic and cut the tomatoes into quarters.
4. Finely grate the zest of the lemons, avoiding the white pith. Squeeze the juice and set both aside.
5. Beat the egg yolks and whole eggs together with salt and pepper. Add the lemon juice and half of the zest. Beat until the mixture is slightly airy.
6. When the water boils, cook the pasta until it is al dente.
7. While the pasta is cooking, heat a frying pan with oil on a high heat.
8. When the pan is hot, place the langoustine in it, back side down, and fry for about 30 seconds. Then add the butter, turn the tails and fry for a further 30 seconds.
9. Remove the langoustine from the pan and turn down the heat to low.
10. Now add the garlic and tomatoes to the pan and sauté.
11. When the pasta has one minute left, put the langoustine back in the pan and heat them.
12. Drain the pasta, but keep a few decilitres of the pasta water.
13. When the pasta is ready, add it directly to the pan and toss it with the langoustine tails and the tomato/garlic mixture.
14. Take the pan off the heat.
15. Add the parsley and the egg mixture, stirring quickly.
16. If you like, add a little of your saved pasta water to make the dish creamier, as the pasta absorbs the liquid quickly.
17. Arrange the pasta in deep plates and sprinkle with the last lemon zest and a little freshly ground salt and pepper. If you want it to be extra delicious, garnish with wood sorrel. Eat immediately.
Bon appetit!
Time: 30 min.
Quantity: Serves 4 people

Ingredients:
30 langoustine tails
400 g fresh linguine (or spaghetti)
400 g cherry tomatoes
2 cloves of garlic
2 tbsp. oil
25 g butter
2 organic lemons (juice and zest)
4 egg yolks
2 whole eggs
A handful of chopped parsley
Perhaps with Wood sorrel as garnish