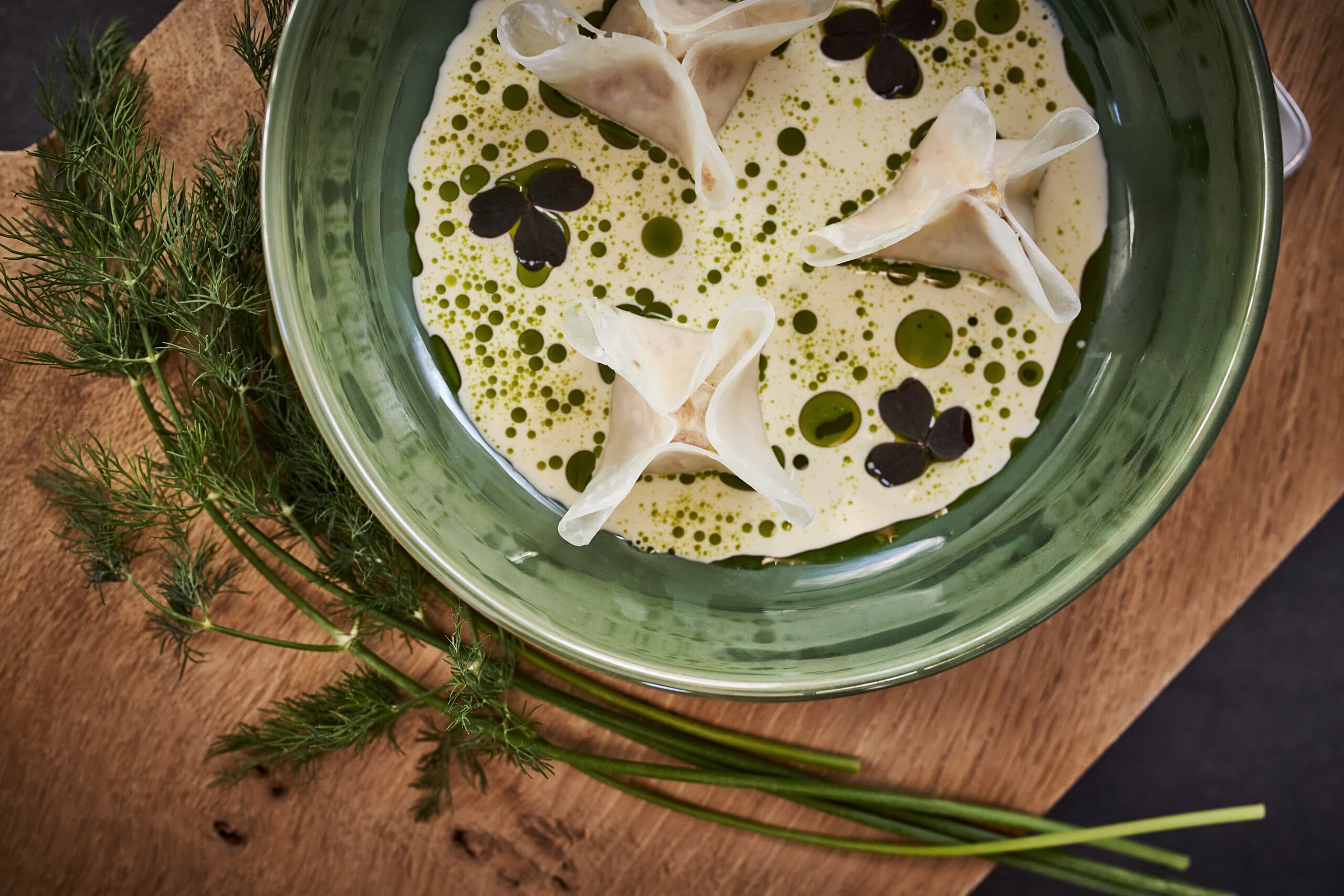 Ingredients:
8 langoustine tails
1 kohlrabi
3 tbsp. sour cream 38%
1.5 dl. whipping cream
Juice of 1 organic lemon
2 pots of fresh dill
1 dl. neutral oil
Salt and pepper
Method
Dill oil
1. Put the dill in a blender and add neutral oil and a pinch of salt.
2. Blend at high speed for 5-7 minutes or until the glass of the blender feels warm to the touch.
4. Strain the mixture through a cloth.
5. Refrigerate until use.
Filling
1. Peel the langoustine tails, remove the intestines and season with salt and pepper.
2. Heat a pan over a high heat, add the oil and fry the langoustines, back side down, in the pan for about 30 seconds. Turn the tails over on the opposite side and fry for a further 30 seconds. Remove from the heat and chop into coarse pieces.
3. The chopped langoustine tails are cooled before being tossed with sour cream and lemon zest. Season if it needs salt/pepper.
Ravioli
1. Peel the kohlrabi and slice it as thinly as possible on a mandoline. You need a total of 6 round slices of about 10 cm in diameter (if you want them perfectly round and even, you can use a biscuit cutter afterwards).
2. Heat a saucepan of water. When the water comes to the boil, blanch the slices for about 1-2 minutes, drain and set aside. Then sprinkle with a little salt and lemon juice.
3. The filling is now distributed between the 6 slices of kohlrabi, about 1-1.5 tsp. in the middle of each slice depending on size.
4. Fold the ravioli like a clover and place in a deep plate (3 pieces on each).
5. In a small bowl, mix the cream with a little salt and 1.5 tbsp. of lemon juice.
6. Then add 2 tbsp. green dill oil to the sour cream until it forms small green pearls. Then, carefully add the separated cream with a spoon to the bottom of each plate.
Bon appetit!
Time: 30 min
Quantity: Serves 2 people.

Ingredients:
8 langoustine tails
1 kohlrabi
3 tbsp. sour cream 38%
1.5 dl. whipping cream
Juice of 1 organic lemon
2 pots of fresh dill
1 dl. neutral oil
Salt and pepper